OnePlus has been one of the leading premium smartphone manufacturers in the market and caters successfully to other sectors such as audio devices, smartwatches, smart TV, accessories, etc. Now, the Chinese giant may soon enter the tablet category. 
A European Union Intellectual Property Office (EUIPO) trademark listing has revealed the company's first tablet - OnePlus Tab. Unfortunately, the listing available on the official website doesn't reveal any further details or specifications, and judging from the fact that the filing is pretty recent, OnePlus could be working on the tablet.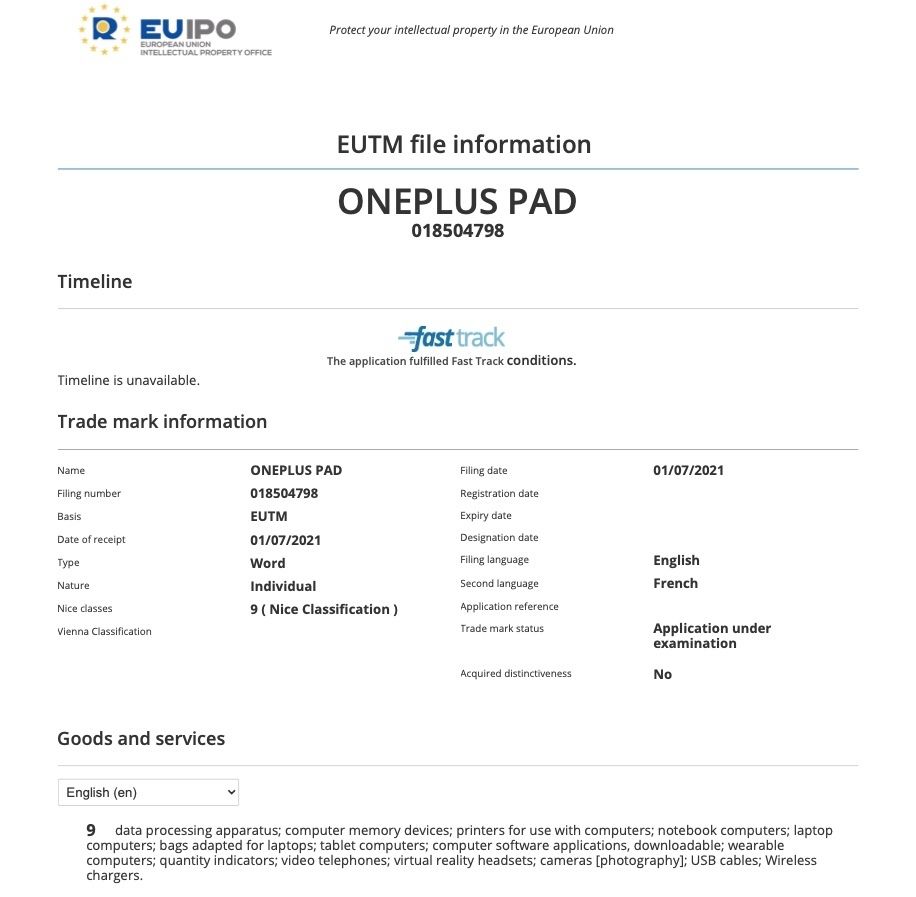 However, we can expect some high-end specifications from this device which can place it in a position to compete with companies such as Samsung and Lenovo in the market. Other companies under BBK electronics such as Realme and Vivo are also working on their tablet offering as well.
Realme has already confirmed the launch of the tablet while Vivo has recently filed a trademark for the Vivo Pad with EUIPO. Moreover, Xiaomi is also expected to launch three new high-end tablets soon, so the OnePlus Pad can prove to be a competitor to them as well.
The trademark was originally filed in January of this year but only now showed up publicly in this database. As mentioned earlier, the trademark filing does not tell us anything about the OnePlus Pad specifications. It indicates that OnePlus is developing such a product, and considering a name already got certified, we can expect it sooner rather than later.
The device will ship with Android out of the box, of course, while OnePlus' OxygenOS will come pre-installed. It will come with either Android 11 or 12, depending on when it launches. Still, that name is quite revealing, and it definitely suggests we're looking at a tablet.
OnePlus started off by releasing smartphones but released various other products over the year. The company announced a smartwatch, earphones, backpacks, and more. Helping the case is a note on the listing that explains it is a trademark for "goods and services" including "data processing apparatus; computer memory devices… tablet computers."
The company will foray into the tablet's category with the first-ever OnePlus tablet, the OnePlus Pad. The upcoming OnePlus tablet may either come with a Pro variant or a single model. OnePlus said the common codebase will standardise the software experience on phones of both brands. ColorOS will be a part of the process for future OxygenOS updates and vice versa. The flagship OnePlus series, including T and R models will now receive three guaranteed major Android updates and four years of security updates, the company confirmed.
---
---
0 comments
Leave a reply
Please Login or Register to Comment.
Get Started